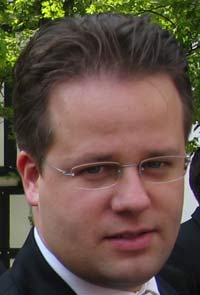 Matthias Röder
Organization:
Harvard University
URL:

Country:
USA
City:
Cambridge
PhD
thesis on "Music, Politics, and the Public Sphere in Late Eighteenth-Century Berlin." His main research interests include social history of music, digital musicology, as well as the creative process of Ludwig van Beethoven. He has published his research in the US, Germany, and Austria and has appeared frequently as a conference speaker and guest lecturer. Matthias is the founder and editor of Zeitschichten.com, a web magazine on music and history, where he writes on contemporary music, the future of the classical music industry, and the art of listening to music. Before coming to Harvard in 2002, Matthias studied music at the Mozarteum University in Salzburg. In addition to his academic and scholarly projects, Matthias is also active as an artistic advisor and music manager for several New Music projects in the United States, Turkey, Germany, and Austria for which he produced CD recordings, concerts, video, and educational events.
About our TWiki project
I am a musicologist at Harvard University who started an interdisciplinary research group (musicology and computer science). We use TWiki as a collaboration platform. So far we're very happy with it but it seems that TWiki does not have native support for easily listing the edits and contributions of single users. We would very much love to see such a feature. If you have any suggestions on how to easily implement this feature, please be in touch!
http://www.scribeproject.org
Please Help with my Feature Request
Please help with my feature request at
UserContributions
. We're trying to build a better system for user contributions that will indicate all the changes and edits that a particular user made. Thanks!
Related Topics